as soon as I reached London, I headed straight to Lyle's. haven't heard of it? well, Lyle's a restaurant that focuses a lot on the natural essence of each ingredient which made it one of the 50 world's best restaurant. and I couldn't WAIT to try it. and so I did! and here's my review about it. mainly because I really liked it (of course!).
the menu's daily (with the date printed!) and only one page. only 12 small plates with 5 desserts. the recommendation is to have 4 small plates and 2 desserts for two, and that should hit you at the right spot of being filled. but personally, I think we can easily go for 5 as well.
please ask for their sparkling water. it's soooooooooooooo good.
the restaurant wasn't very big but really quaint and minimalistic. I really liked especially all that natural light!
first up, the sea urchin, turnip and mandarin, 16 pounds. fresh, zesty and.. totally not worth 16 pounds. it's literally two pieces of uni with two slices of turnip in mandariny-llimey juice. it was definitely good but it didn't exactly impress me. not a good start? well, read on.
then, a whole plate of queen scallops with cider butter.
w.o.w.
that's all I have to say. it's not exactly the entire plate since the scallop shells beneath was just for decoration which made the entire dish look so divine.
but this scallop, my friends, will be one of the best scallops you'll ever put in your mouth. not just because it was fresh (it wasn't even that big) but because of the method they cooked it. it was the taste of sea, seaweed, all that goodness of the ocean, in one bite.
mmmmmmmmmmmmmmm. must order if you ever see this on the menu.
third dish, the beetroot eel. it was quite a fun dish. eel was delicious and the whole dish looked like a piece of art. that eel was so fresh, I could almost feel it swimming just 10 minutes ago. the beets went really well with the eel, getting rid of any fishy taste it had and everything was just to enhance the taste of the eel. a very small dish though. but I get it, if it's too big, I may get sick of it.
this dish is called hen of the woods. well, it ain't chicken, definitely. it's mushrooms with the most healthy egg yolk you'll ever seen. ever seen those Japanese egg yolk videos where you can hold the yolk with your chopsticks/fingers? this will be one of it. it is very Asian in the sense that the broth tasted very shoyu-ish. the mushrooms were very unique and delicious, and of course, everything was sublime together. and it was at this dish that I noticed that, the price wasn't to justify how expensive a dish can be, but it was more towards letting you experience how each ingredient can taste so present in itself and taste so good just by itself. in each combination, you can taste each and every one of the fresh ingredients pretty well. and that, my friends, is one true gastronomical experience.
as for desserts, derp ordered a coffee meringue with caramel ice cream which.. really just tasted like coffee. I'm mildly allergic to caffeine therefore I had ONE bite. and gosh, I definitely did not enjoy the coffee breathe (non coffee drinkers will understand me) but I think derp really enjoyed it.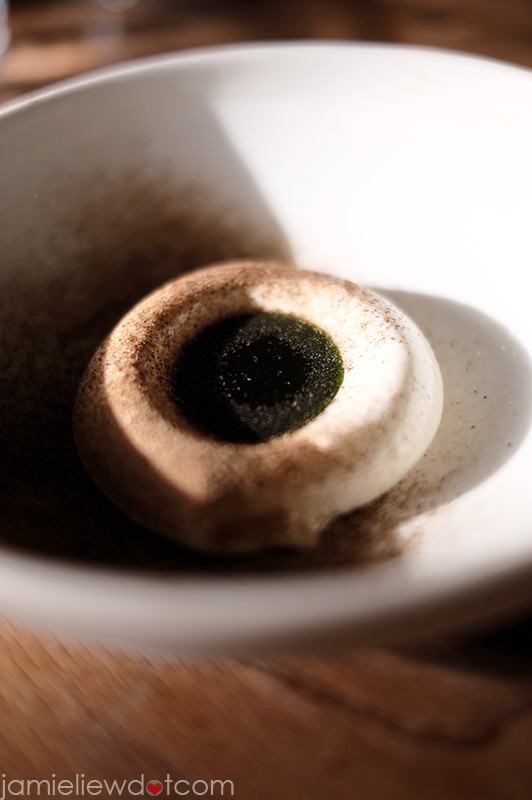 as for me, I followed the really nice and chatty waitress' recommendation and had the ricotta cheese ice cream and fig leaf dessert. best 7 pounds you'll ever spend. because this was probably the best tasting dessert I've ever had in my LIFE (not exaggerating). for food, I'd probably had better (but this is one of the best in its natural taste category), but desserts.. oh my goodness. I don't even know fig leaves tastes so good with ricotta cheese ice cream. like seriously, what was that! how did they make this?! I really hope they'd keep this in their menu forever because of just how great it was. It tasted like a toned down cinnamon with a hinge of nutty leafy taste. not sweet. it's quite difficult to explain it.. but I was literally tempted to come back just so I can have more of this. if you are visiting and they have this dessert, please do me a favour and order a double portion. you'll not regret it.
I think I mentioned that the natural lighting in this restaurant is amazing. therefore, a picture is compulsory.
took one for derp too! so, who's the better photographer? (well.. I did all the settings still lol)
VERDICT: I'll definitely return if I'm back in London again. love how each dish is just exploding with every ingredient's natural flavour and did you know eggyolk could taste so good??? it definitely seem like Lyle's have the best dessert menu in town so look no further. it's definitely on the more expensive end, I think the bill ended up over 90pounds but decent for the quality and the amazing experience. I didn't emphasize too much above but the waitress was also one of the kindest and most beautiful person I've ever met. she's the blurred shadow in the picture I took for derp.
Lyle's ($$$$$)
Tea Building, 56 Shoreditch High St, London E1 6JJ, UK
Mondays – Fridays 8AM – 11PM
Saturdays 12PM – 11PM
closed on Sundays
Jamie's Rating:
taste ☆☆☆☆☆
atmosphere ☆☆☆☆
originality ☆☆☆☆☆
service ☆☆☆☆☆
hygiene ☆☆☆☆☆
value for money ☆☆☆☆.5