ever heard of this famous bakery called Passion 5? bet you haven't. if you've not lived in Seoul for a period long enough, you might not even know about the existence of this fabulous cafe/bakery which is ultimately posh; bringing bakery to a whole new level as IT IS THE BEST BAKERY SHOP IN TOWN. the name Passion 5 came from 5 elements namely: bakery, pattiserie, chocolates, cafe and the 5th's the passion of the pattesiers. and of course, knowing that it is the best, you should already know that it is expensive. there are barely anything that goes under 1,000won. or was there none? forgot. but most of the bread costs around 3,000won and cakes 7,000won. =S.
even though it isn't very popular amongst foreigners, this place is always packed with people and on the day I went, we had to wait for a seat despite paying so much for just desserts. there's a posh cafe on the 2nd floor but that cafe's queue was even longer. you can bring your breads, cakes, chocolate and ice cream to the cafe/restaurant on the 2nd floor =).
if you love cakes. I truly recommend you to stop by this bakery for the ultimate experience!
and here's a link to the video I took there. you'll definitely want to go there after watching the video. and.. I am sure you'll laugh too. D=.
https://www.facebook.com/photo.php?v=10151965745886850&l=4877772332316760093
from the outside, passion 5 look like every other office building and it definitely do not stand out that much.
but the landmark? this red chicken. or bird. or whatever it is.
before entry, you'd see this amazing looking chandalier which I think would look even more fab at night. the architecture of this part's no joke. it's awesome.
so we were hungry.
3-in-1 cake/한입에 세번 반한 케이크 7,000won and Halla halla bong 한라 한라봉 8,000won.
the left is some 3-in-1 cake with a mixture of strawberry cream, coffee and I don't know what's the last one. it's pretty good but not like super duper amazing. but it was super duper amazing just to look at it. the one on the right's called Halla Halla Bong, which was named after Halla Bong, Jeju Island's famous tangerine. it's super sweet and the layers inside's magnificent. not sure if it will fit everybody's appetite but it's worth a try because it's very "wiggly." teehee.
and the entire table here costs 45,600won. I know, it's a lot for breakfast and pretty damn expensive too. but they all looked so posh I was happy just by looking at them.
I ABSOLUTELY adore the cheese tart behind and that the strawberry pastries. bliss.
this bakery's expensive and it is well known for being expensive. but more than half of what we had were actually worth it's price. because the desserts and bread were 5 stars like the bakery. but if you're on a tight budget, you should still try their most famous pudding in a bottle which costs 3,000won. not like the ones from Paris Baguette, these are not as sweet and relatively addictive. make sure to scoop the caramel at the bottom to go together with the pudding! there's no eating this pudding prettily, just deliciously. =D.
we also had a swiss roll. I'm not so much of a fan of that 4,000won swiss roll. too little for such a high price. =S.
o hai =D.
with my Malaysian foodie friend who's as adventurous as me in terms of food, Fakegood hahaha.
this was definitely one of my favourite. it's called some orange in the chocolate lake or something. 2,000won and the middle part's heaven. super moist and yummy. not like your average chocolate filling bread!
another favourite was this. forgot the name but it looked like a strawberry boat. very very crisp and fragrant ahhh. <3. everything was in the right amount. definitely one of the most delicious pastries I've ever had. but of course, I've never been to France. but still, OMNOMNOMNOMNOM.
that 3-in-1 cake earlier. I liked it layer by layer as well but I still found it nothing too special.
Imma devour you all!
had to take a picture with the awesome architecture.
okay, one thing that sucks is that you can't take pictures inside. I was too scared to sneak pictures so… =(. but it's really posh and the ice cream bar looked amazing. there's even a chocolate bar! everything turned me into a little girl looking at yummy chocolates and cakes. and all the cakes were so pretty it was actually a hard decision to choose which to have. furthermore, they have many pretty whole cakes (not cheap! but not like unaffordable. still alright.) so if you're thinking of getting yourself a pretty cake for your birthday this year,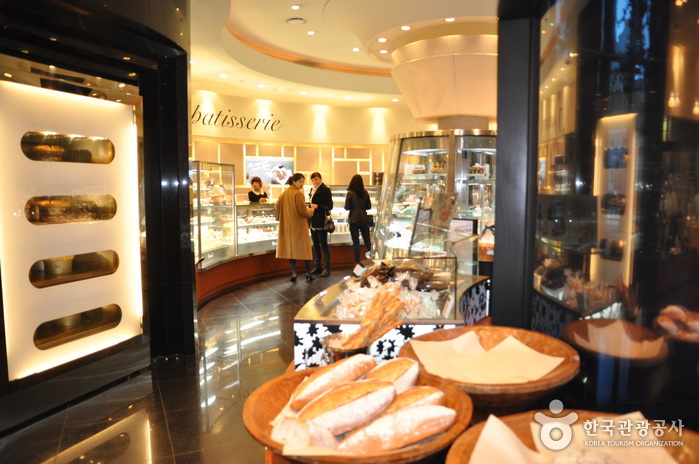 picture from visit Korea website
see that round thingy there? it's filled with the most gorgeous cakes I've ever seen in my life.
and here's a great blogpost I found on the net =).

http://freeflowingmemories.wordpress.com/2013/10/29/desserts-for-queens-at-passion-5/
directions to Passion 5, Itaewon : take the subway to Hangangjin Station (line 6) and get out of Exit number 3. walk straight and you should be able to see the bakery on your left!