Having not been back for 2 years, I find myself rather touristy. and since Megumi came all the way to visit me here in Malaysia, my tourist mode boost to its max. and yeah, although I study in Korea, I seem to always mingle amongst Japanese people. well there are a few Americans, Canadians and.. Europeans too.
back to the topic. since Megumi came, I have been to many places I've never been nor was I interested in going. and surprisingly those pictures turned out pretty well. I guess it's similar to how I'd always dissed my friends in Korea for not having been to Nami Island or Namdaemun when I've been there for over 10 times perhaps.
so here, the famous Merdeka Square.
KLCC/Petronas Twin Towers (and this is the popular spot for tourists haha there were so many tour buses)
Pavilion. not exactly touristy but we took over 30 pictures at the same spot. hahahha.
forget about Midvalley, KLCC and 1Utama. Pavilion's decoration beat them by far.
those horses.
dat ice cream.
while it was packed here and there, Zhang Toi was quiet during CNY dinner and the food's great.
especially their specialty, the chocolate banana cake. yum.
love curry? love tom yam? well, this is a combination of them two. only available at Taman Midah's Dim Sum restaurant! and their noodles are home made without any preservatives!
they also serve awesome chee cheong fun! <3. and… dim sum's not bad too. but their curry tomyam is definitely the king.
took Megumi to Penang by ferry. her hair definitely had fun hahahaha.
and the street arts. we have more but it's all in her phone =X. my battery died after this picture hurrr.
the best. I repeat. the BEST CHENDOL! Penang Road famous teochew chendul =3. even Jimmy Choo's been here. and a lot more. they had the picture with Jimmy Choo framed nicely with a wooden frame while the others were just laminated hahahahaha.
TADA! I like mine with less read bean.
and they now got a store. and they sell Asam Laksa there. I went there when they were about to close (which means we got the bottom soup. the best part) and it was literally the best Penang styled Asam Laksa I've ever had. ever. D=.
Megumi took an ant bite. and choked. she hate durian. just like every other Japanese I know who've tried durian.
fried oysters. expensive, delicious and addictive.
Penang's Char Kuey Teow? heavenly. they have this too in Gangnam's Kitchen Nyonya. but it isn't even 1/10 as good D=. and it costs.. x20 the price. at least they have great rendang there.
Penang Har Mee's awesome too. and cheap.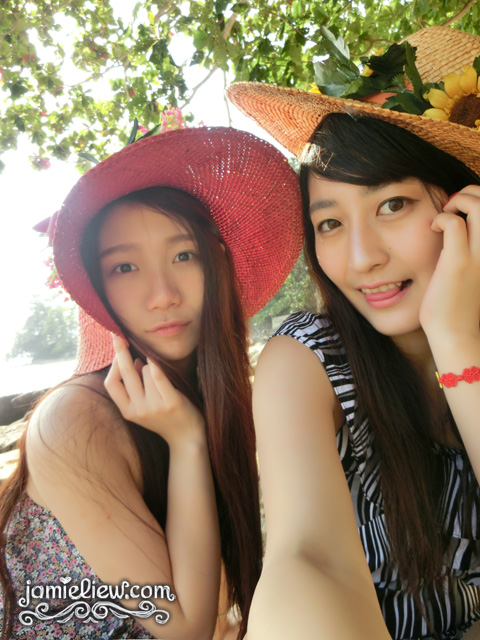 and took her to the beach. not as pretty as Redang, but still a beach =D.
I'm such a giant T_T. that's why she'd always wear heels while I wear flats pfft.
took her to Genting as well and since the theme park is under construction, we headed for the arcade like a kid hahaha.
CNY must eat : Yee Sang. miraculously, she ate two plates. it isn't exactly the most delicious dish but I told her eating a lot of this brings prosperity HEHEHEH.
chilling at my cousin's restaurant's private room haha. everyone, please visit CWZJ. a table above 1.5k allows you to book a really pretty room. =3. with your own private bathroom. =D!!!
Nyonya Asam Laksa at Jonker 88, Malacca. such a long wait but it was pretty worth it. hate all the taufupok and foochok though T_T.
how sad. everything's under construction T_T.
those carts. made my Japanese friend's jaw drop. they even have a doraemon one.
because the walls were pretty. almost took one of my friends life to climb up here haha. good exercise though!
"paint me like one of your french girls"
Siu Yok Wan Tan Mee at Jalan Alor. the last shop. the best shop.
and they still serve the best chicken wings.
letting Megumi try otak-otak. surprisingly, she liked it! taufufa too!
and my favourite pan mee place.
spam. taken at the oldest hotel in Penang.
I have so much chocolate and cookies at home to last me for a year. but yet I am still buying more. =X. well, I wanna eat so much but I have too little time!
we spent 5 minutes shouting like a bimbo. it was ticklish. it really was.
strawberry farm.
and a ridiculously ugly picture of everyone looking ridiculously happy.
there are more pictures. but I'm tired. Malaysian weather make me feel sleepy *yawns* the day is too long here and too short over at Japan.
PS : dyed my hair burgundy and regretted it.