Hello, do you remember my Johnnie Walker Black Circuit post a few months ago? well, they are throwing a contest for all bloggers and a +1 to grab a chance to win a trip to experience VIP  race weekend at the 2011 Formula 1 SINGTEL Singapore Grand Prix night race for 3D2N!
and it will all be happening on the 24th and 25th THIS MONTH! all expenses paid! winners will be treated with full 5 stars hospitality and guess what? TO MEET ONE OF VODAFONE MCLAREN MERCEDES DRIVERS! Lewis Hamilton (boyfriend to Nicole Sczinger!) and Jenson Button (and now I think of Jessica Machibata. goddess girlfriend he has)! I follow racing news too aite?
head on to Black Circuits Facebook page, post a picture to grab your passes!
also, do any of you know that Johnnie Walker is the NUMBER 1 Scotch whiskey in the WORLD?
I myself like it with plain water and ice. because it's so good like that. the true beautiful taste of it.
(picture credit to pile.com.my)
the partayyy in a F1 style will be at the Bay Front of the glamourous Fullerton Heritage district! once again, the most talked about venue!
this awesome by-invitation only event at One on the Bund will be featuring a stellar line-up of the world's BEST DJs, stunning interactive party experiences and STYLISH YET AUTHENTIC JOHNNY WALKER cocktails
and by best DJs, I mean DJs from the wild wild west playing with the TOP of the TOP celebrities!
DID YOU KNOW..
Lewis Hamilton!
Lewis Hamilton won the 2009 Singtel Singapore Grand Prix driving for team Vodafone McLaren Mercedes? and Johnnie Walker has been the global Partner of Formula One team Vodafone McLaren Mercedes since 2005!

Mr. Charles James Wright and Crew, the reason why you should give me and a friend that once in a lifetime experience is because I'll definitely bring fireworks to the event as I'm the brightest social butterfly! furthermore, being the passionate blogger that I am, do look forward to my after party post!
and my version of a PUURRRRFECT Johnnie Walker Race Party will be..

#1. A SUPER EXCLUSIVE VIP EVENT; an event where I could find myself partying among the most numbers of celebrities and famous people!
with our famous violinist cum Nasi Lemak 2.0 star, Dennis Lau and the endearing Spinzer.us.
Ringo, Audrey and Timothy, Malaysia's top celebrity bloggers!
and see what I meant by really famous people? =D.
#2. SURPRISING UNIQUE INVITES.
what had left a deep impression on me from their previous events would definitely be the way they packaged their invite. it's such a witty idea for them to make invites as a necklace! with a code behind too! (something more manly for the guys, a clip for their shirt)
the best souvenir to reminisce that fun filled event.
#3. AWESOME PERFORMERS AND HOSTS!
at the entrance with Hannah Tan! Malaysia's SEXIEST woman. with Hannah T as the host of the night, who'd not be satisfied?
#4. GREAT ATMOSPHERE.
other than the great performances and all, I especially liked how they blasted the F1 car race sounds at the entrance. I'm not sure if anybody would actually notice this sort of thing, but I personally felt that a great introduction is really important. not only does it makes an event/a movie more classy and exclusive, it also enhances the mood of the people there.
those F1 sounds at the previous Black Circuit event really got my heart racing! =3. and now that I've mentioned it, you should think back and let me know if I'm right =P. ever looked at even a poster and get truly touched by what it's trying to project? the same thing.
#5. FUN CROWD. with the most sporting party goers!
that's Cindy and Felicia whom I wasn't too close with before. but Johnnie Walker walks you to better friendship, yes? =D.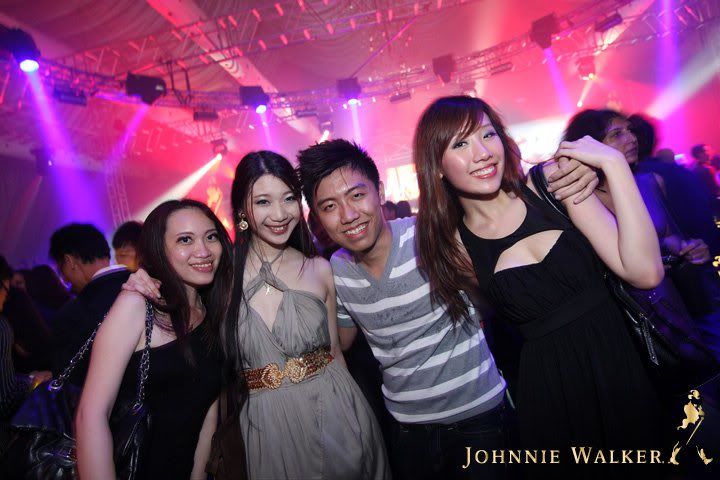 #6. PROFESSIONAL JOHNNIE WALKER PHOTOGS.
the picture explains it all no? such an awesome picture.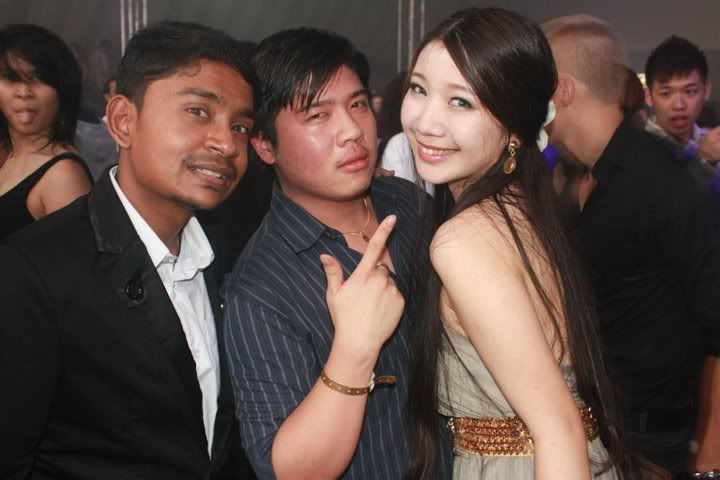 and more.
#7. FREE FLOW OF THE BEST SCOTCH WHISKEY IN THE WORLD!
YES, the greatest part will be the free flow of Johnnie Walker cocktails with excellent finger food at the event. my favourite was the chocolates.
tipsyness + chocolate = euphoric. =D.
JUST KEEP WALKING! =).
here's a little glimpse for you to see what's on for the coming event. just to provoke you to want to be there =P.
for more information on the contest and how you can step inside Jet Black in Singapore, visit www.facebook.com/JohnnieWalkerSingapore
not to forget, do join the Johnnie Walker Facebook page! www.facebook.com/JohnnieWalkerMalaysia
please do book your hotel/taxi driver early.
NEVER DRINK AND DRIVE