for a girl as conservative as myself, (yes I probably don't look like it T_T) I actually found it difficult to like, perhaps expose myself to others. going to the sauna in Korea naked was the most daring thing I did. but as soon as I stripped, the bathing place closed. so. well. D=.
I had no knowledge on waxing because I've always portrayed it to be a "painful" experience. and the worst is, if you wax the more "shyshy" areas you'd probably feel awkward. Mandy asked me if I would like to try it a while ago and I thought, why not? I'll have to grow up someday. *sniff*
WAXXX.me, located at the Aman Suria's shoplots (alliance bank on the left side, a few shops away) sure does have many car parks available. it wasn't difficult to find as it's actually facing the main road!
don't you just love the WAXXX logo? it's so pretty. and guess what? it's designed by the owner of the shop!!
initially, I thought that brazilian/hollywood waxing was perhaps a full body waxing with er.. brazilian/hollywood style waxing? but it turned out to be… waxing.. your sensitive area. it's embarrassing to say, but I have never heard of it before. T_T.
but to my surprise, it's actually a really normal thing to do! in fact, there's actually quite a number of people whom are doing it monthly as it's much more hygienic. weird, I know. I would try if I had the chance but it was just the time of the month. =D. many of us, in fact, did hollywood waxing for the first time! (all of them did hollywood. except me.) and they all said "it feels so good!"
also, WAXXX SPECIALIZES in brazilian and hollywood waxing + permanent hair reduction! there are actually many salons who does it. but really, how many of them are well trained/ professionals? so I guess it's always safer to visit the professionals. not only do they hurt less, they'd prevent you from experiencing the most unimaginable situations =P.
little did I know, there is MANZILLIAN waxing as well.
the reaction of Jon when the brave Sam Insanity went first for his hollywood waxing. he was actually really shy on revealing his "sensitive part" to another man because it seemed.. awkward. but well, the therapist probably saw too many to remember anyway.
both Jon and Sam came out fine. feeling much more refreshed! =D. no they did not walk like a penguin. haha. and the guy in the black shirt with the moustache is the owner of WAXXX! do you recognize him? there was a billboard somewhere to PJ where a guy proposed? well, that macho man is our friend here! his proposal to his wife is probably THE MOST romantic proposal in Malaysian history. you can read about it here on Linora's blog. *sniffs* more points to why you should visit WAXXX!
honestly, I was pretty afraid even if it was waxing just my legs. T_T. I had my underarm done too  but no I am not taking a picture it's weird.
the chic interior of the shop! the ambience of the shop is really good with the hip and trendy music and all! and the interior is designed by the owner as well! awesome much?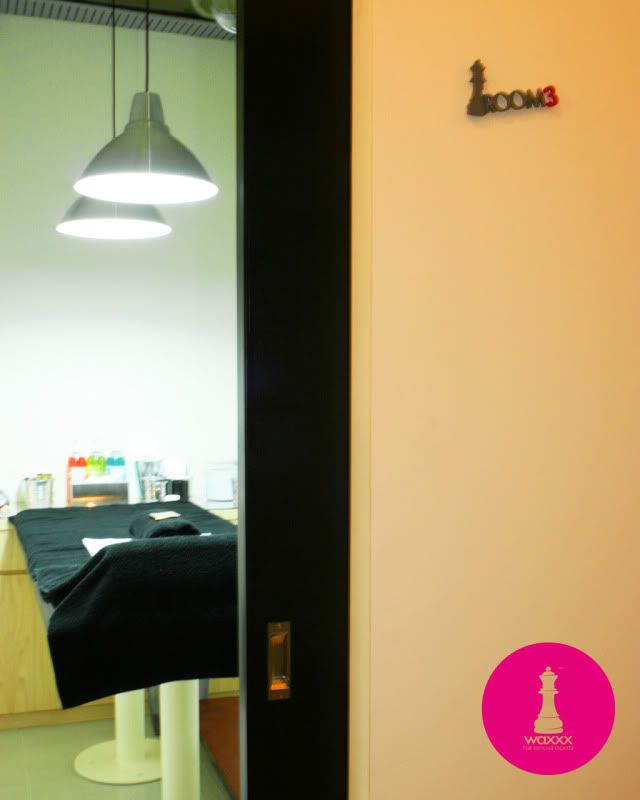 very clean room. sterilized with hospital grade disinfectant!
and also if you are wondering if they have products sold. I am glad to say, YES THEY DO! relevant stuff like moisturizer, ingrown hair solution and lightening gel (for the sensitive ares! =D)
Mandy commented that my legs were literally shining when I walked out of the room. and guess what? IT DID NOT HURT AT ALL. sometimes it's the mentality that brought me to become scared of it. but really, mark my word because waxing is not painful when it's done with trained and experienced professionals! also, my legs feel soft and moisturized too!
and do not think waxing is fast and easy. it takes pretty long. like half an hour for full leg? but it's alright because the therapists are really friendly =D.
but I really have to say, WAXXX is as affordable as it is as their services starts from as low as RM9.00! and the awesomeness when it's new? there's 40% discount currently! now isn't that a good bargain?
extra reasons on why WAXXX should be your choice?
1. waxes and accessories fully imported from Australia.
2. they uses the Depilar System, a new method of permanent hair reduction (and WAXXX is the FIRST and ONLY salon in M'sia)
3. NEVER DOUBLE DIP (every spatula is thrown away after every use!)
all of us! satisfied!
J-G-17 Jalan PJU 1/43
Aman Suria
47301 Petaling Jaya
Selangor Darul Ehsan
Malaysia