On the 1st of October at Quattro, Avenue K.
for this batch of artists, we have Hsiao Hung Jen, Paul Freeman, Lenka and Boys Like Girls! I felt very very lucky to be there this time as it is one of the rarest opportunities, especially to see so many icons in A DAY! and the best thing is, they ALL rock.
also I bumped into numerous people, Michelle on the top, is a friend of Suki's haha it is funny that we still recognize each other =D. and then we have tall Stanley where I am utmost jealous of. and Kristine my senior in high school (last time) and the….. funny looking Serge *cough cough*.
MARC! I just have to give him the biggest THANK YOU <3. also, tilt your screen up a bit to see his awesome hairstyle! and to you o2jammers out there, I bet you've not forgot about our o2MO? =P. he is o2mo[000] teehee.
I am just so nice okay, to have this picture bigger for you guys, so that you'd get a clearer view of the pretty and famous model, Natalie Fong =D. but girls, of course I have MORE for you. scrool down! =P =P =P.
HSIAO HUNG JEN! (or Hsiao Hung Ren)  the student of everybody's favourite, Jay Chou. I bet 95% of the people who attended Hennesy Artistry had NO CLUE about who he is and I am here to tell you that he is AS GOOD AS ANY GOOD SINGERS IN TAIWAN! his songs are very addictive too.
you should at least youtube him or something, do get to know him =D.
I can now say, that he is my idol!
also, yesterday while being online, a friend told me about his funny titled album. hahahaha. it is really very funny, from the title you might think that the songs won't be good, but trust me, that album is worth every penny.
you must be wondering what his past album's title..
it is.. " his name is **** ". I thought my friend lied to me when he told me that. =X. whatever it is, it is still very good.
and here's the proof (if you can read mandarin. I can't.)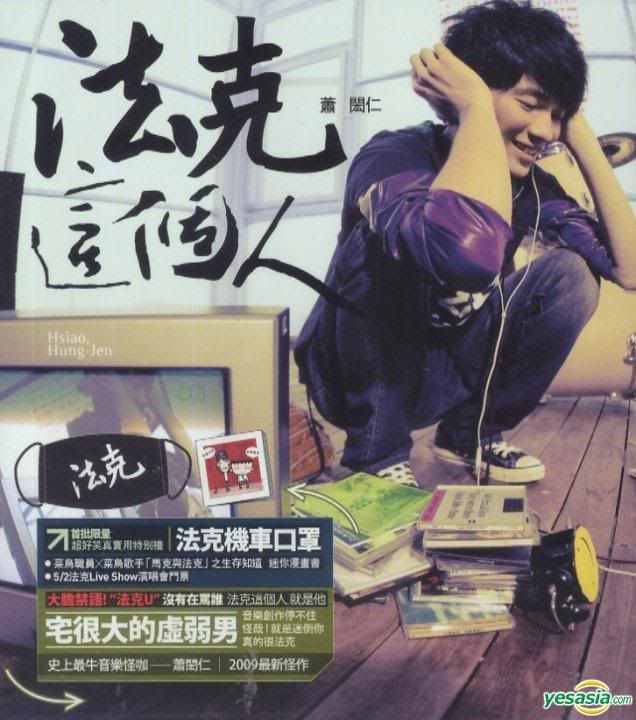 NEXT! Paul Freeman!
yeah and most people's idol, LENKA! I love love love her songs and from the press conference, we received her album as a door gift. @__@! and now I can save back my 40-50bucks haha. she was at first my main point of craving to go for this Press Conference but later I also grew to like..
BOYS LIKE GIRLS! thanks to Sumana, a friend of mine who kept talking about Martin Johnson all day long at class I actually youtubed their songs, and guess what, I LIKE THEM TOO NOW. haha!
and a little something for my friend, Su, here's your early christmas present =P. his best picture in my camera =D.
teehee. =P.
there's a very funny conversation on this picture too by the way. Sandra was telling me how Sumana was being paranoid over him, I showed her the picture and then the commenting began.
hahahaha! even if you think it isn't funny, I don't care! it's just very very funny to me. xD.
and more Martin Johnson for you Martin's fans. =P. but I like Bryan the most, and he looked.. super duper hot that day *drools*.
I know you must be very jealous already for the DOUBLE PICTURES!
and there are a few comments for the picture on top that I find funny toooooo. =X.
hahaha. xD. so it is not only me that likes Bryan over Martin =P.
and those blur pictures! urgh, my camera wasn't so well that day. >=(. how can! yeah, instead of two I have 6 =P. was lucky that he is nice to take more with me until there's a clear one. =D!
okay okay enough bragging I shall stop it xD.
and Paul! my sister's favourite in the band =P.
bwahahahah! there's actually still 1 more pictures taken with Bryan =P.
and more cute pictures of Boys Like Girls. =D.
and, my favourite flavour of Hennessy is Apple. what's yours? =D.
what's next? Hennesy Artistry! this picture's courtesy of Brian Loke. awesome speed light, I want one too. =/.